The first step in our process is an initial consultation with our client to understand their needs, requirements, and vision for their construction project. During this consultation, we will take a look at the site, listen to your ideas, discuss your goals, and answer any questions you may have about building in general or with us.
At this stage you may have already engaged an architect and had a design or concept design completed, this is absolutely fine we will review what information you have and come up with a price or budget for the project. If you do not have a design or plans yet we will take your vision to one of the many architects we work with and will request a fee proposal from them for you.
Once an initial design brief meeting has taken place we move into concept development. At this stage you will receive a floor plan, some basic elevations & renders of project so that you can get an idea of how it will look both visually and layout wise. At this stage changes can be made to anything you wish and you can also request further concepts at a small additional cost. During this process the design team will look into the need for resource consents and any other special planning requirements. QBS will begin to put together a pc sum budget, basic timeline of construction & assist with ECI (early contractor involvement). Once you have confirmed you are happy with the concepts developed design and working drawings can begin.
Developed design is your last chance to make basic alterations to the project. It is important that during this stage of design you spend time looking at sizes, spaces, heights and levels shown on the plans to ensure you understand what you will be signing off. Once plans move into council it is expensive to adjust them and it will delay your project if an amendment is triggered.
During developed design we will add input around buildability, the site challenges, design details and structural elements. Our aim is always to build a sound home without going over the top on engineering. That is why eci is so important!
Once the detailed design has been signed off, we will create a detailed budget on a template that can be used to send out to multiple trades or builders, this will ensure that when comparing prices you can compare apples with apples not bananas. We begin formal final pricing once those plans are back from council and BC has been granted. It is critical that the pricing stage and scope creation is accurate and detailed to ensure a smooth build process, areas of risk will be identified and advised and we will always prepare a contingency for those items.
Once the pricing has been agreed moving to contract discussions is next. We operate using the master builders contracts or NZ3910 contract. Once the terms of the contract are agreed including timelines, payments, dispute processes and defect periods we can issue a booking deposit and lock in the start date. From here our planning goes to another level as we build a detailed construction schedule, order materials and book contractors in for the job, this includes signing contracts with each trade to ensure you are protected.
Pricing & Cost Estimating:
As a client, it's crucial to have a clear understanding of the costs involved in your construction project. Getting detailed pricing estimates from reputable contractors like QBS Construction can help you make informed decisions about your project and ensure that you have enough funds to complete it.
Having a detailed pricing estimate can also be helpful if you need to secure financing or negotiate contracts with contractors. It ensures that both parties are on the same page about the scope of work and the costs involved, which can help avoid misunderstandings and disputes down the road.
At QBS Construction, we take pride in our transparent and accurate pricing estimates. We use a thorough and detailed process to evaluate the costs of each project, taking into account all the necessary materials, labor, and equipment needed to complete the job. This process ensures that our pricing estimates are as accurate and reliable as possible, giving our clients peace of mind and confidence in their budgeting and planning.
By choosing QBS Construction, you can be assured that you will receive the highest quality service and the most accurate pricing estimates in the industry. We are committed to helping our clients achieve their construction goals efficiently and cost-effectively, and we look forward to partnering with you on your next project.
Our team of experienced building professionals will commence construction, working closely with our clients to ensure that their vision is brought to life. We will keep you updated throughout the construction process with weekly meetings, and detailed construction schedule. Your project manager will be available to answer any questions you may have throughout the process of construction & our office team is always on hand to discuss any financial queries.
Final Inspection and Handover:
Once construction is complete, we will conduct a final inspection to ensure that everything is up to our high standards. Upon your approval, we will hand over the completed project and provide you with a comprehensive warranty and maintenance package.
Our commitment to customer satisfaction doesn't end with the handover of your project. We are always available to provide ongoing support and advice, ensuring that your construction experience is as stress-free and enjoyable as possible.
At QBS Construction, we believe in a collaborative approach and are dedicated to delivering exceptional results. Our step-by step process ensures that every project is completed smoothly, with minimum stress and disruption, so you can sit back, relax, and enjoy the results of your dream project.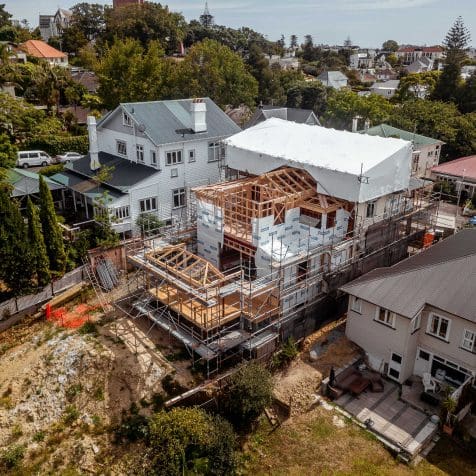 Checkout this amazing Timelapse of a major heritage project we undertook in 2019